We're going to be talking about Marguerite de Valois which is a great high school with many options and a excellent atmosphere. This high school alone has a huge sum of 1377 students and around about 110 teachers. There are 50 classes in total in the high school which is quite a big amount of classes. We have a percentage of 58,8% girls in the high school and 41,2% boys. Out of 1377 students, a total of 150 are doing Euro Section including ourselves. There's 275 students that are boarders in room's of 3 so there's plenty of company to socialise with. There's about 110 classrooms with some that are specificly used for certain subjects like computer rooms, physics rooms, art rooms and traditional rooms. Our headmaster is called Mr.Perrier but there's also 2 deputy headmistresses whose names are Miss.Alberti and Miss.Lars. This Lycee was first built in 1962 and it was a only girls school until it changed into mixed school with boys and girls. This Lycée is great place to live and learn because there are many different subjects like the Euro Section.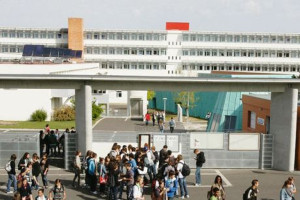 Let's talk about Marguerite de Valois with numbers !
To get the answers down below, we asked Mrs.Lars, one of the headmistress of our school, thanks again to her for answering our questions and give us some of her time !
In our high school, there's about 809 girls, it means 58.8% of the students, so more than the half (that's many !).
Also, to stay with numbers, there's about 110 teachers, here to help & teach us everyday, in about 110 & 120 different classrooms, divided between four floors, and one basement, where are also European's section classrooms.
We were also curious to know why our high school was named like that, so we asked Mrs.Lars, and she explained us that they named it like that because Marguerite de Valois, François 1st's sister, was a woman really resourceful, independent, ahead of her time, and  wrote books ! To be simple, she was a powerful woman. Plus, she lived at Angoulême, so that's why our school is named like that !
The library is very important in this High-School. The goal of it is to allow students to work correctly, in good conditions. This new library was first opened in 2006, is opened every day.
 We can find many documents, aproximately 53 230 documents and 17 572 books. This library can welcome about 200 students, 3 persons worked here, they have to prepare the cultural animation, they are responsable of the library, they order books…
The libary organize a lot of exposition of different subjects in the year.
 The library has a Mook's project wich is a contraction of magasin and book wrote by Marguerite De Valois and Jean Rostand pupils. The euro section has already worked for the Mook to tell their travel in Scotland.
Furthemore the Mook brings to the euro section  publicity in all schools of Angoulême, so it's very beneficial.
For the curious people, the longest corridor is 155 meters. Only Marguerite de Valois has an English euro section in Angoulême, and this is why the euro section is popular in our highschool and also in Angoulême !
Euro Section
The euro section was created at the beginning to offer more possibilities for the STMG classes to enter in an international business school and to offer more opportunities for more pupils to learn English differently as in English class. The euro section helps the pupils for their future. indeed, the pupils who have worked in euro section are better for the Parcours sup' ranking and they're better for the selection administration.
This year 140 pupils for each classes work in euro section.
In euro section, many subjects are tought. The pupils work on cosmics particuls and Arduino with Mr Brunel. The pupils who work with Mrs Gresso learn history. They work on industrial revolution, the inventions and how all these new things changed the life of the people.
the objective for the pupils who work in euro section are numerous. First the pupils become better in English. They understand what the differences are and the common points between the European  countries and  have an other perspective of the world.
Why should we study in euro section ?
The Euro Section was created in 2007 for the STMG pupils. From 2009 until today, history and geography were also tought in English.
Many trips have been organised, for example, to Brussels in Belgium, Strasbourg, Sweden, Germany, Normandie, and Paris. Last year, pupils have visited Brussels.Trips are organised every two years. This year, economics, chemistry, physics, management, history and geography are tought in English.
Many teachers are there, like Mrs Gresso, Mrs Lelli, Mrs Savary, Mrs Blais and Mr Brunel who trained themselves a lot before becoming a teacher.
There are many advantages for pupils to study in the euro section, they are able to understand how history impacts our society, what we should and shouldn't be proud of.
For the Baccalauréat, there is a normal English test and an oral exam where the students will read a small text and will have to present it during ten minutes.
For students, european class  is a way to practice and perfectionate their english language  whether is in paper or oral. Celine said:"according to me get the exam with the european class mention is the priority". For the majority the main objective is to have an excellent english mastery at the end of their scolarity in the perspective to go to walk or study in anglosaxon countries ( United States or England ). For the while even we are at the begenning of the school year pupils seems to be happy to be in this class.
Thx for reading our article .  See you soon for another article !!
Euro Section Groupe 2
Monday, October 8th, 2018 in classroom 12…
Have a good day !
We wanted to thank all the persons who helped us write this article Mrs Lelli, Gresso, Mrs Lars, Mrs Alberti and Mrs Louboutin.
Annaëlle
Clélia
Camille
Louis
Salomée
Firdaous
Ethan
Tom